VISA® Platinum Credit Card
Visa® Platinum Credit Card rewards you with points and is supported by an experienced, caring customer service staff ready to help. State-of-the-art security & accepted from sea to shining sea.
Debit Mastercard®
Our cards have an embedded chip for added security. EMV chip cards give you an extra layer of protection, making your card extremely difficult to counterfeit or copy.
Chip card transactions offer you advanced security in-store and at the ATM by making a unique code for every transaction. If the card data and the unique, one-time code are stolen, the information cannot be used to create counterfeit cards and commit fraud.
Travel Card
An easy, safe way to manage your money while traveling. The Travel card is reloadable, more secure than cash and is accepted at millions of retail locations worldwide.
Set up a PIN number to get cash at an ATM.
Travel cards can easily be replaced if lost or stolen.
Maximum load value of $3,000.00.
Travel Card Purchase Fee: $5.00
Travel Card Reload Fee: $3.00
Bank Gift Card
Use wherever debit cards are accepted. Choose the amount right for your budget – from $10 to $1,000. Freedom to shop in-store, online or by phone.
Safer than cash!
Gift Card Purchase Fee: $2.00
---
WSB Card Guard
TAKE CONTROL OF YOUR DEBIT CARD:
Protect your debit and credit cards through your mobile device by receiving alerts and defining when, where and how your payment cards are used – with the WSB Card Guard app.
• Instantly lock and unlock your cards
• Set and remove spending limits
• Get purchase alerts in real time
• Limit transactions to a certain area
GET STARTED! Download the app for your device through the Apple App Store or Google Play Store.
Your login information for Card Guard is the same as your online banking username and password.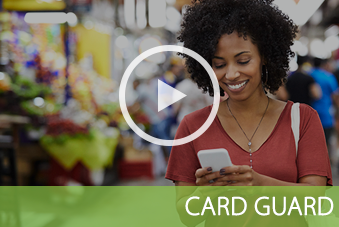 ---
Mobile Wallet
Guide to Mobile Wallet:
Mobile wallet is a way to carry your credit and debit card information in a secure digital form on your mobile device. Instead of using your physical plastic card to make purchases, a mobile wallet allows you to pay with your smartphone, tablet, or smartwatch in stores, in apps, or on the web.
Our mobile wallet will be compatible with:
• Apple Pay
• Google Pay
• Samsung Pay